Wearing Chain link blouse from Primark, Marble print tuxedo skirt from Zara, Maroon booths from Zara, Studded bag from Aldo, Titanium quartz stone necklace from 30versions
About a week ago, I attend '#EatDrinkArt', a food art exhibition featuring multi-talented artists over at Mad Nest, a fusion bar and restaurant nestled along East Coast Road featuring Thai, Argentine and Japanese cuisines. It should come across as no surprise that this contemporary dining joint has came up with such a novel idea to combine both food and art together by inviting 14 artists to create based upon an assigned mystery key ingredient from one of the three cuisines.
Wore this ensemble, which I really love as it is so weather appropriate for the unbearingly hot and humid weather here in Singapore. I especially love this titanium quartz stone necklace from
30versions
, which is handmade by two ladies in Singapore using stones and crystals from Brazil. Aside from the gemstone and semi-precious stone accessories, they also make bracelets and necklaces out of organic materials such as fabric and ropes. Definitely very artisanal!
Me, Desiree and Marc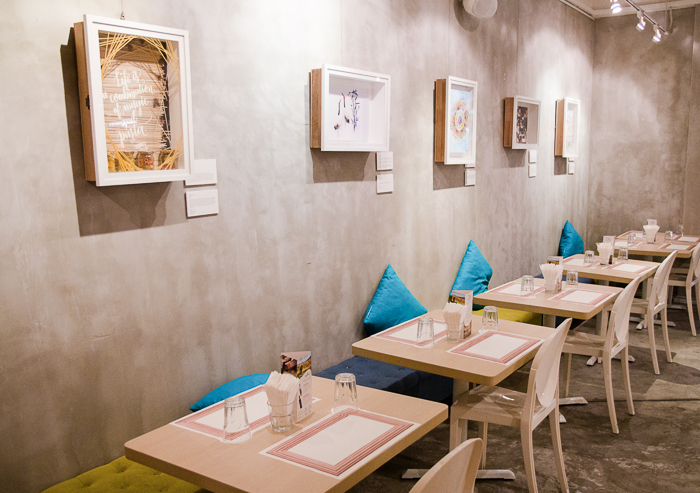 It was really interesting to look at the multimedia artwork, some put together literally from rice and mussel shells, to illustrations and photographs inspired by the food ingredient. My favourite comes from my friend Grace Ciao, for her illustration of a dress based upon a lettuce leaf, and also the very zen artwork of Japanese cranes composed from grains of rice by another favourite artist, Love Limzy. I also enjoyed Teresa Lim (teeheeteehee)'s work once again displaying her quirkiness with flair and also Caleb & Gladys for their dramatic take on fashion photography (think model devouring messy spaghetti caught on black and white film).
I really loved nibbling on the canapes served during the event - there were tender cajun chicken and juicy bratwurst sausages served on mini broiches as part of the Argentine menu. And from the Thai menu, there was green curry chicken - a delightful mildly spicy concoction of green curry, spices and chicken. The salmon sashimi roll from the Japanese menu did not disappoint as usual either. For big group parties or a for a good place to chill, definitely check out Mad Nest for their extensive menu choices!
Big thanks for
Desiree
for the photos and her boyfriend Marc for driving us to and fro *hehehe*
#EatDrinkArt Exhibition
18 June 2014 - 5 September 2014
Mad Nest, 378/380 East Coast Road, Singapore 428986
The finale of the exhibition will include an art and craft workshop, a sumptuous buffet spread and other activities for parents and their children. (Details TBA)